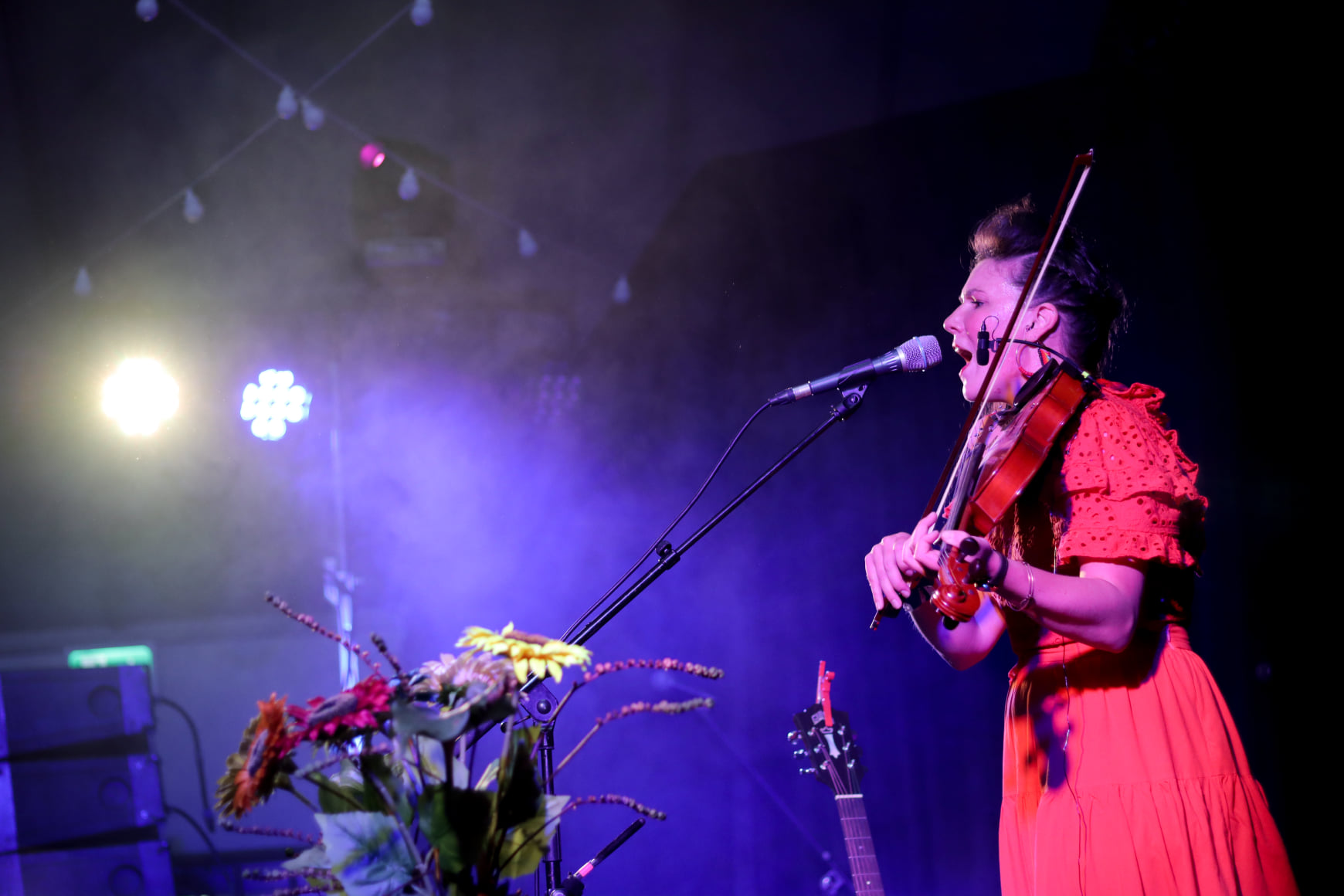 Clare Sands on stage at The Doolin Sessions. Photo credit: Liadain Kaminska
"Sometimes you have to dance in the sunlight in a field with your friends
To the rhythm of your tribes' tunes.
Letting the beat take over the mind's job
Relinquishing control to the music
Until the cobwebs of winter are truly dismantled."
I wrote these opening lines to a poem five years ago, after a Kíla gig in Phoenix Park on a sunny May day. It felt like the beginning of summer that day and the end of a particularly long winter. And here I was at the end of summer 2021 at a Kíla gig once again at The Doolin Sessions. It was the first post-covid musical gathering I had been to and it felt like the music was blasting away a prolonged eighteen month winter that had set into my bones.
In a post earlier this year Manchán Mangan explained the difference between 'damhsa' being the word for human dancing and 'rince' being what the young calf would do when it was first let out of the stables, buck-leaping and bedazzled by the sun. We weren't exactly bedazzled by the sun the entire weekend but there was certainly a general sense of buck-leaping in the 'rince' style. I felt like this 'rince' was channeling life back into the core of me along with every thud of Dave Hingerty's drum set and drone of James Mahon's pipes.
That whole weekend in Doolin was a revival of sorts. So many musicians said that they didn't have the words to explain what it meant to be back in front of crowds. Saint Sister played a hauntingly beautiful quiet set that brought a tear to my eye. I had listened to their music of course and seen a number of their online streaming concerts during the past year. But now that I had seen them in person, I felt more connected with the stories behind their songs and they resonated with me in a much deeper way. An audience becomes connected through these performances in more ways than we're even aware of. I read recently that when people tell stories, the heartbeats of the listeners actually synchronise. Stories and story-telling are what we run on as humans, what binds us. I am fully convinced of that.
And new stories were created too. A doctor from Kerry who lives in Canada approached me and told me he had seen me recite a poem in Dick Macs pub in Dingle on a Sunday morning at Féile Na Bealtaine three years previously.
'And then you played the fiddle. What you read, it was very personal, it was vulnerable. I remember it well.' 
I was stunned by this recognition. That is the magic of the festival circuit in the West of Ireland.
A fiddle player I know stopped me when the gigs were over;
'There's talks of a swim down the road. Have you the togs in the car.'
'Of course..The togs and towel are in the boot.. And the fiddle.' The essential accoutrements for your boot for an Irish Summer.
Any talks of swimming were abandoned as we got wind of the news we'd been waiting for; the location of the performers post-gig session. Fiddles were retrieved and we made our way through, following the sounds of various instruments. We arrived to rip-roaring tunes in the back-garden of a nearby house. I was stopped in my tracks by the sight of one of my favourite fiddle players in the country lashing out tunes at breakneck speed. She was in absolute command of the session. I just wanted to watch, to take it all in. But sure enough I couldn't watch for too long and the fiddle was rooted out. I got a precious seat and held on to it for four hours straight. I never budged.
There was a hunger for the music like I had never witnessed. Bystanders danced freely. A wooden table was played, spoons, pieces of wood. Every available rhythmical device was roped into that session. I took not one photo or video, because I never left my coveted seat. I never took up my phone. I played my heart out and the session rose to such a frenzy that I thought we would have lift off, somehow. The hours whipped by until we were asked to leave.
There was post-festival discussion, much like post-match discussion. We all talked about what it meant to us to be there, to be 'back.' One punter broke down Clare Sands performance; 'The way she spoke in such a commanding way, about the language, about the land. It's as if she's summoning something up from the earth as she speaks.'
In the final moments I drove down to Doolin pier and watched the full moon over the water, listening to the waves crash against the pier. I considered staying for sunrise but I drove away home through the moonlit winding roads of Lisdoonvarna, Kilfenora, Corofin. I blasted Clare Sands through my car speakers as I drove singing her belter of a chorus at the top of my voice 'Iontach Bheith Beo (Good to be alive).'
Yes it was good to be alive in Doolin that night. The cobwebs once again dismantled. We will squirrel all that energy away to get us through this coming winter. But it won't be as long this time.
Louise O'Connor is a fiddle player, sean nós dancer & podcaster from Clare. You can follow her on
Instagram
,
Facebook
, subscribe on
Youtube,
and for updates on new articles and interviews you can sign up to her newsletter
here.
This article was funded by Creative Ireland Clare and Clare County Council